Meet the webmaster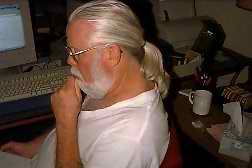 Well this is me as of 2001,hard at work on
what I hope will be an interesting website.
(feedback will be appreciated)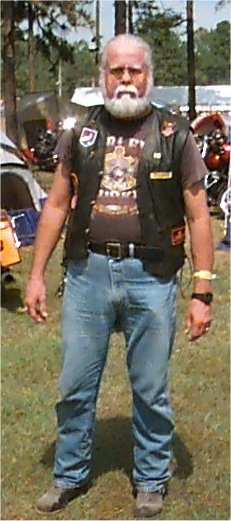 Well here is a recent photo taken at this years 2002 Blowout, if I look a little worn out it's because I hadn't slept for about 35 hours. (you know how it is when your friends are partying, they just won't let you sleep)




Here is a condensed history of my love affair with that all consuming mistress known as a motorcycle.
It all started when I was about ten years old. I saw a rugged looking biker kickstarting an old Flathead Harley. I must have looked consumed because he walked over to me and said something like," you like that boy?" to which I replied "YEP!"
He picked me up and sat me on the seat and I felt the thump of that flathead engine and my whole life changed in that moment.
I rode my first bike at the ripe old age of thirteen years and eight months old and bought a 1940 flathead 74 cubic inch harley at fourteen.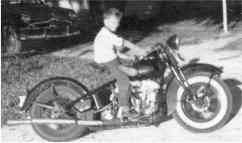 (A Picture of my first love, wasn't she a beauty.) I paid a grand total of $50.00 for her, I wonder if you can buy anything Harley today for that price.
Oh, thats my nephew Steve on the bike.(just like I was at that age.)

Well, there's not enough website to mention all the Harley's that followed, so I will just say that below is my last Harley and between the first and last there were many more. (one Flathead 45 cubic" - one 45 cubic" Servicecar - one Knucklehead - and many Panheads 61 & 74 cubic inchers and one Shovelhead, all hand shift hardtails except the Shovelhead.) I think the grand total including a race bike was 25.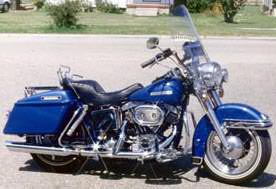 This was my last bike, a 1975 FLH shovelhead that I totally restored in 1989.(Thanks to C&H Jammer and Phil, one hell of a mechanic and a damn good friend.) Due to hard times I had to sell her, but I think there's a gal in Texas happy with her first big twin.


Visit my site often as I will be adding more pages, pictures and stories as time permits.



Ok, here is a picture I just found from my past, I had forgotten all about it.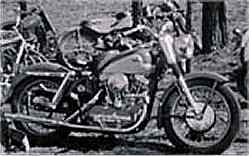 If I remember right this was a 1956KH, an early model of todays Sportsters.
(Who thought they would catch on)

NEXT
BACK
Copyright 2001 RoadHogOtd
ROADHOGS Page Guide

[Home] [About Me] [Blowout1] [Blowout2] [Biker/Triker Watering Holes] [Trike page] [Calendar of Events][Awards page] [RoadHog's Hot Links] [M/C Club Links] [In Memory of] [Halloween Bike Fest] [Halloween Bike Fest] [Ms.MotorcycleIndustry.com2002] [RoadHog's Bike & Trike Gallery]