AWARDS PAGE
Awards My Site Has received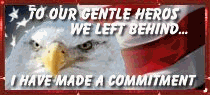 " This Award is issued to RoadHog's Pig Pen by the Advisory Board of the POW/MIA Freedom Fighters Organization, for it's early and steadfast commitment to our missing Warriors "08/14/02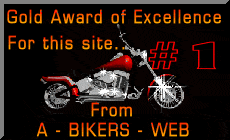 Presented by:A-Bikers-Web-Ring 11/06/01
Thanks guys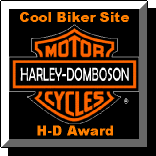 Presented by: Harley Domboson 11/24/01
Thanks Dombo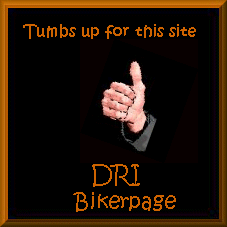 Presented by: DRI Bikerpage 11/28/01
Thanks Bor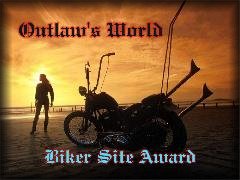 Presented by: OutlawsWorld 12/21/01
Thanks Pan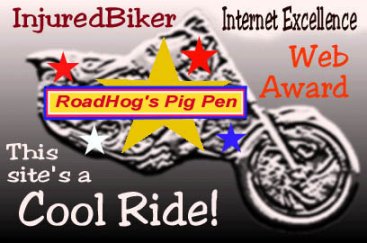 Presented by: injuredbikers 03/21/02
Thanks Injuredbikers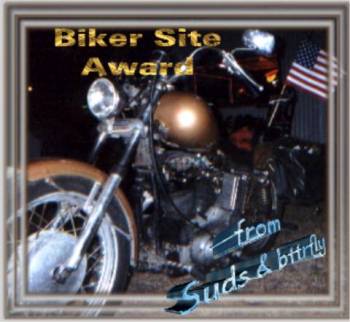 Presented by: Suds & Butterfly 08/13/02
Thanks guys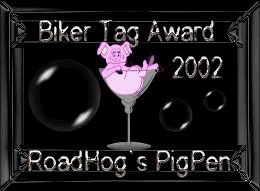 Presented by: Biker Tags 10/11/02
Thanks Biker Tags





If you would like one of My RoadHog Website awards just ask, the only requirement is that your site contents pertain mainly to bikes or trikes. If your site is offensive or overly vulgar don't even bother to ask, remember I have the last word!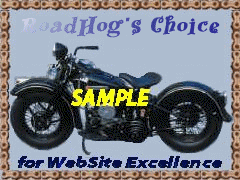 Ask for "WEBSITE AWARD" #1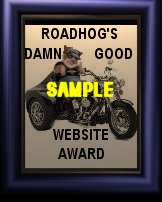 Ask for "WEBSITE AWARD" #2






Ask for "WEBSITE AWARD" #3
Place your request for your choice of awards here RoadHog's Award Application
You will need to close the Application Form page ("X" out) to return here when you are finished and don't forget to include your URL for review.
NEXT
BACK
Copyright 2001 RoadHogOtd
ROADHOGS Page Guide

[Home] [About Me] [Blowout1] [Blowout2] [Biker/Triker Watering Holes] [Trike page] [Calendar Of Events] [Awards page] [RoadHog's Hot Links] [M/C Club Links] [In Memory of] [Halloween Bike Fest] [Halloween Bike Fest] [Ms.MotorcycleIndustry.com2002] [RoadHog's Bike & Trike Gallery]